Wednesday 3-31:
News & Teasers: Our programmer is out of town until Monday, and rather than push out the update half finished we have decided to hold off, because you deserve better; we're sticklers for quality here and the update has to be perfect. Huntress Chapter 6 is in two parts- the first part, featured below in some beautiful screenshots, pits Sersi against the hordes of Dynessia- Mistress of the Pit.

In this installment things are a little different- you will take direct control of Sersi to cut through the army of succubus babes, as our heroine fights for the right to challenge Dynessia herself.

As always the completed update will feature Chronicle of the Blade content, a comic introduction, and different comic endings depending on whether Sersi is victorious or defeated. The FULL update will go live complete with guest artwork, new wallpapers, and the completed Chapter 6 battle against the succubus hordes, early next week after our programmer is back in town. For the record, family reunions suck... so until then keep it right here and enjoy the tasty previews!
Tuesday 3-23:
Sitewide Hardware Upgrade: So we're back online after a catastrophic computer situation; and after finally completing an all-encompassing hardware and software upgrade we are ready to get back to work! We heartily apologize for the delay in getting you any information, but for a time here we didn't even have web access. Now we'd like to share our new update schedule going forward. In the future both Barbarian Babes and Erotic Vixens Wrestling will feature one LARGE interactive content update per month, and one smaller artwork update per month as well. These updates will be staggered, so that two weeks after a large game update on BBabes you will see a games update on EVW. We will be featuring some artwork from new artists on both sites, and rest assured our dear members will be reaping the rewards of our new hardware and software systems. Coming very soon we will have the

next chapter of Huntress

for you, and

something sexy and new over at EVW

. We appreciate our loyal fans and promise that we plan to make up for lost time! Our first comprehensive Barbarian Babes update will be live within the week.
Thursday 2-17:
Supergirls come to Barbarian Babes! We've just pulled the curtain off our official Super Heroines section! Jump right into the world of Megacity; where the Legion of Pain and the Justice Girls duke it out with humanity hanging in the balance! We've got tons of pinup posters explaining the good, the bad, and the sexy, along with huge wallpapers and the animated chapter menus, with special previews of the upcoming comic series

Clash of the Tit'ns!

and upcoming games

Heroine's Nightmare

and

Vixens Vanquished!

Wednesday 1-26:
TEASERS & COMICS:
As promised we have some teasers here for you- the

Super Heroines

section is in full swing, and will be ready soon! As you can see the animated menu will link to Wallpapers, Comics, Games, and Super Girls- which is where you will find large pinups of the

Super Heroines and Bad Girls that fight for control of Megacity! Powerful and virtuous, Selynda Star leads the Justice Girls against the evil Evexxa Vain and the Legion of Pain!

So in the meantime check out our hot new

Cowgirl wallpapers

and the new

Fantasy comic series- The Bridge!
Monday 1-24:
NEWS FLASH:
We've got an announcement to make... lately we have been hard at work on an entirely new chapter for Barbarian Babes...

Super Heroines!

That's right, the Supergirls in peril section will be going live next month- featuring an all new game pitting a sexy villainess against multiple good girls as she attempts to break them down for violation- er, interrogation! There will be

new wallpapers and artwork

as well as an animated

Super Heroines menu page

just like the other sections! Tasty teasers coming very soon... keep it right here!
Monday 1-10:
Welcome to The Huntress: Chapter 5!
We've got a huge update today featuring tons of new Huntress content!

The Chronicle of the Blade

has been updated yet again to brief you on the Fallen Angel's powers as well as the new magic Sersi will be using against her. Also say hello to the mighty

Titaniyix

as she makes her debut in the Chapter 5 story as well as the Chronicle of Blades.

Three new Huntress wallpapers

have been added along with the epic battle against Agariel itself, and as always victory and defeat will result in different endings. The story continues as Sersi prepares to venture deeper into Hell than any mortal woman before her- but her own weapons will not be enough!
In addition- for the first time ever, we've got a SPARTIKA demo online for Freeplay! Click the menu below to try it out.
Monday 12-20:
Experience The Huntress: Chapter 4!
Sersi takes on the vicious

General Yivida

in epic fashion in Chapter 4 as the story of the last member of the Sisterhood of the Crescent Blade continues! Yivida is a sultry foe indeed... few can resist her! Also don't forget to check out the

new wallpapers

and updated

Chronicle of the Blade. From those of us here at Barbarian Babes have a safe and happy holiday!
Sunnday 12-12:

The Huntress Update: Chapter 4 is almost upon us...

in the meantime check out our hot

new Wallpapers

in the Huntress section and enjoy the

Chronicle of the Blade update!

We've added

Charikon, Mistress of the Pit-

with Dynessia and Queen Kryazza she makes the third in a deadly trio of elite succubus demigoddesses that Sersi will have to defeat if she wishes to face the Dark Empress herself! Also we've added music to the Queen's page befitting her station, and updated Agariel's artwork to showoff her new weapons- angelic blades that inspired the Sisterhood of the Cresent Blade to fashion their own! Perhaps Sersi might one day win these weapons from the fallen angel? We've also added Chapter 4 to the Chronicle index, fixed an issue that was causing sounds to overlap and made the Chronicle a bit easier to navigate..
Monday 11-29:
The Huntress Saga Continues!
Chapter 3 draws to a close in epic glory-

take part in the deadly battle between Sersi and the wicked warden Sileer-

with the souls of her Sisterhood on the line... Help Sersi slay her succubus enemy and find a way to cure the deadly curse she bears! New interactive comic pages update the story as we prepare to move on to Chapter 4.

The Chronicle of the Blade

has also been updated yet again, and the

Huntress Wallpapers

section has just picked up 3 new additions... Also, don't forget to check out

SpaceGirl Interrupted 4 - our current Freeplay!
Monday 11-23:
Huntress:
In preparation for the final battle of Chapter 3, the Chronicle of the Blade has been updated with Sileer's powers and new magic...
Monday 11-22:
MORE Huntress!
Chronicle of the Blade has been updated with

two entirely new characters...

also this week The Huntress unrolls its own

Wallpaper

section, which debuts with no less than 18 wallpapers! Stay tuned as we gear up for the deadly contest between Warden Sileer and Sister Sersi when

Chapter 3 continues next week:

As the curse of the Painted Clown increases its hold over our heroine, will the pain be too much? Or will she fight through it and slay the lusty demoness to free her sisters' souls from the torments of Hell!
Monday 11-15:
Huntress UPDATE:
Chapter 3 is now live!

We've added the

Chapter 3 story, battle, victory and defeat movies plus a huge update to the Chronicle of Blades!

Check out the new magic, new enemies, new pinups, and new powers! Also we've got a hot new

pinup wallpaper

from guest artist Jessica Elwood in our Toon section!
Saturday 10-30:
MASSIVE Halloween Update:
The Huntress

is quickly turning into one of our most elaborate games, practically worthy of a website on its own! This week we've updated the

Chronicle of the Blade

, which is our guide to the world of the Huntress- inside this animated presentation you'll find new information on Huntress characters, chapters, and magic spells for Sersi and her enemies! Each character can be viewed and rotated 360 degrees as you read up on her backstory and powers. You'll also find a ton of new pinups, music and sounds!
Now just in time for Halloween we're ready to unleash the Huntress, Chapter 2!

Chucklebloody the clown is a fiendish boss with all kinds of nasty tricks up her sleeve. As in Chapter 1, this update comes with a comic story introducing the battle and more comic pages following depending on whether you win or lose! You can also now unlock

Essence Codes

for Chapter 1 and 2 which will allow you to replay a chapter you have beaten with 25,000 Essence- giving you everything you need to unlock all fighting styles and powers! Also we trust you'll enjoy the new music, sounds, and pages added to Chapter 1 as well as a bloodier fight against Mother Superior. And while we're at it don't forget the

double wallpaper

update this week!
Monday 10-25:
Navigation Update:
We've decided to share the love!

Non-members can now see our animated member pages.

You'll still need to sign up to see the content, but the entire site is now easier to join and easier to browse than ever before!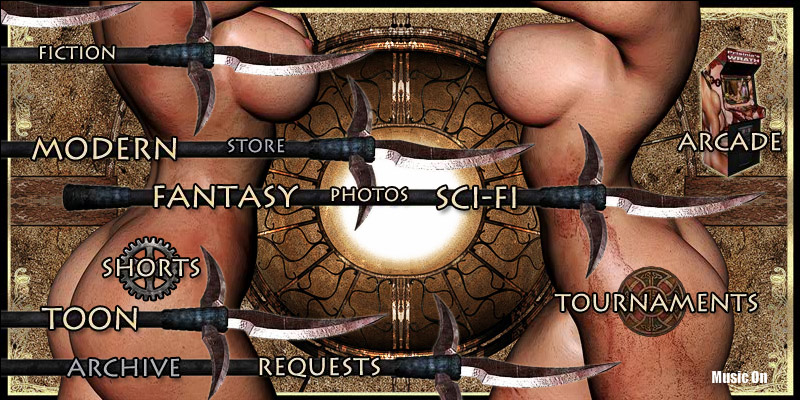 Wednesday 10-20:
Meet the Huntress!
We've got a massive update today... out of nowhere we are ready to unveil our latest game, inspired by horror-meets-fantasy! The Huntress is the sexiest nun-priestess-amazon-warrior you'll find... this game is totally unique with incredibly engaging combat that the player sets up beforehand, then gets to sit back and WATCH the action!

Click the logo to check out the Huntress animated introduction...

this game is part comic, part RPG, and part fighter! Also be sure to check out the hot

new wallpaper...

Thursday 10-7:
Cowgirls & Vampires 3:
We've updated your maps... and

Chapter II of this amazing game is now online in all its glory.

Head to Deathcross and take on hordes of the Crimson Crow's beautiful bloodsucking, gun-slinging minions! Then wear her down and defeat the Crow herself! As in Chapter 1, score high to unlock pinups!

In addition we have updated Chapter 1 to make those pesky badgirls a little easier to target.
Also check out our revamped Tour and new Game Guide! As an extra treat we invite you to head over to Erotic Vixens Wrestling and check out Bouncy Boo Boxing- the first level is on freeplay and it will give you an idea of what

Demon Fighter

will be like- coming soon to Barbarian Babes! Take on the role of a super sexy blade wielding nun as she slices her way through a bevy of voluptuous female monsters! Speaking of Freeplay we've got Chapter 1 of Cowgirls & Vampires 3 hooked up as our new demo!
Sunday 9-12:
Cowgirls & Vampires 2 Update:
We've done some work on the into movie to squash an annoying bug that was causing the second part of the game to load incorrectly. Thanks for your feedback and game on!
Wednesday 9-8:
Cowgirls & Vampires 3 is born!
It's more sexy gunslinging action in the 120 degree humidity! Chapter 1 features 9 half-vampire vixens, desperate to to achieve immortality- these girls will do anything even if it means gunning down the deadliest cowgirl this side of Hell! Aim carefully and watch for the pesky tumbleweed... As a tribute to the reboot of our most popular game series we've put the

drinkin' game from Cowgirls & Vampires 2

up for FREE for non-members to check out. Also as always we've got

more wallpaper

, and Chapter 2 of Cowgirls & Vampires 3, as well as an epic rebirth to the Prisinia franchise is on the way!
Sunday 8-15:
You're not dreaming!
We've got a mammoth update for

Sentry Slayer

today... level 3 and 4 have been added including

the first BOSS fight!

This involves some very different tactics than the other levels and we hope Xamanchi will be a hell of a lot of fun to tangle with. Also we've squashed a nasty bug with the ammo selection so the game should be running perfectly now. Levels 2 and 3 have had new sounds and artwork added, and we've a lot more in the works for this amazing game. Now... on to the "you're not dreaming" part. As you can see from this week's

hot new wallpaper

Amazoria is making headlines once again- that's right,

Prisinia has been reborn!

And not only is she hotter than ever but she'll be coming to Barbarian Babes like you've never imagined in September! Check back soon...
Tuesday 8-3:
The gaming love continues!
Not only have we updated the arcade section with

Sentry Slayer's own cabinet art and introduction

, we've added hot

new sci-fi wallpaper

and

LEVEL 2

to the Sentry Slayer game itself! Level 3 is almost complete and will be coming soon! In the meantime enjoy the new gameplay, and for those not yet members or itching for a no-strings-attached BOSS fight check out our new

arcade demo for August- it's the Gemini Guardians from Queen of Sparta!

This sexy encounter will test your shield swing and spear slashing reflexes... and as always, stay tuned for more coming soon!
Sunday 8-1:
Sentry Slayer is finished!
For those of you who simply cannot wait feel free to play now by clicking the image below. However the update is not quite done-

we will be rounding things out tomorrow with a new demo game for non-members, new wallpapers, and of course the Sentry Slayer cabinet art...

also we have already begun work on future levels and the game was built in a way that makes updating it much easier than many of our previous releases. So until level 2 and 3 hit the site enjoy the opening salvo of Sentry Slayer- it's like nothing you've seen!
Sunday 7-18:
Barbarian Babes Shorts
gets a hot update.

Sentry Slayer

is almost complete; but we want it to be perfect- which means there will be

another update this week!

In the meantime check out the hot new

Sentry Slayer intro

, and get acquainted with what's in store when the game goes live... also check out our stunning new

Sci-Fi wallpapers.

More to come very soon!
Friday 7-9:
So here's the deal:
As it turns out getting back to comics and wallpapers doesn't quite work out for our members. There's been a fair amount of rumbling about the lack of game updates- but at the same time we don't want to keep releasing a new game with only one playable level and a single wallpaper for an update. So we've decided to really go for it- as you can see on our sister site EroticVixensWrestling.com we've released

Bellypuncher

- a brand new game with the first SIX levels already included. This game has been a HUGE hit over there. So what does that mean for Barbarian Babes fans? Well we are working on a combination puzzle/shooting gallery game called

Sentry Slayer

(unless we find a better title). And we plan on releasing a bunch of levels with the original offering. This game will feature a lineup of sentry girls, with a captain type miniboss- and your job is to shoot em down and collect bonuses. This is easier said than done as there will be moving shields, blocks, powerups, and other things protecting them. This game will transcend several different genres- the first level features futuristic hotties complete with blasters and eye-visors... but later levels will feature everything from hot demon girls to cheerleaders to vampires, cowgirls, cops, etc. A lot of work has already gone into it and we want the opening salvo to be something that offers the right balance of visual beauty and addictive gameplay. So anyway stay tuned for some screenshots and other goodies, but we promise that when the update is finished it will be HUGE. Sentry Slayer should go online in playable format by next weekend.
Monday 6-21:
Barbarian Babes goes mobile!
By popular request we are now offering a low bandwidth more mobile version of the site. Flash will still be required to play games, but the entire site should be very quickly accessible for those using handheld devices or slower connections. There's plenty of new eye candy floating around and tons of new previews so check it out!
Monday 6-14:
Gynocon prepares to be unleashed:
in the year 3440 an evil corporation of genetically engineered ageless super females controls the world... with global warming rendering 90% of the globe unlivable our story opens in the last great city of the new millennium, Iron Angeles. Check out our Gynocon teaser cover, hot new wallpapers in the Sci-Fi section introducing you to the sexy servants of the corporation, and much more coming very soon! We've also got another

hot fiction update

and the animated

Cowgirls & Vampires 3

short is online! And if you are just passing by make sure to check out

War Goddesses-

our free game demo for June!
Monday 5-31:
Happy Memorial Day!
The story of

Cowgirls & Vampires

continues and the only thing hotter than the Mexican desert is the catfight in this week's comic update. Check out our 7 page continuation as the Cowgirl struggles with her newly minted voluptuous vampire sister over who will get control of that gun!
Thursday 5-20:
Hot New Comic!
Check out the

eight page debut of Cowgirls & Vampires: Cold Hard Bitch!

Hot off the press in our Modern- Comics section, the first issue sets the stage for

Cowgirls & Vampires 3

to be released in the Barbarian Babes Arcade. Also we've added

another chapter to our Fiction section

as the story of the seductive front girl for Legion continues. And don't forget to check out a couple of

hot new wallpapers

in the Modern section as well. In our

Tour section

you'll see

Prisinia's Wrath is available to PLAY FOR FREE for a limited time.

Check it out!
Saturday 5-8:
Brand New Section!
We have added a section for

Barbarian Babes Animated Shorts!

This will be a place to find animated banners, teasers of what's coming next, and short animated scenes or comics. Check it out now by clicking the image below! Also check out our hot

Modern Wallpapers

update, including the first official picture for our next big-ticket sequel to Barbarian Babes gaming! And let's not forget the

Fiction

section, we've added a "concert poster" and story segment for Legion, the hellish band that will be featured in many of our serialized fiction updates. Enjoy!

Thursday 4-22:
More Illustrated Fiction!
Check out KALIGRA- our hot fiction update for this week, along with new wallpapers for our Fantasy, Modern, and Sci-Fi pages!

Friday 4-9:
Spartika Chapter II!
After defeating the sultry Thiedra in deadly combat, Spartika is left only with a cold stone floor for a bed and another long night before her next fight as a slave. But a girl can dream right? Chapter II takes you back to Spartika's glory days- and a brutal contest with her deadliest opponent! Wearing full armor and wielding her trusty gladius, Spartika takes on Perakae of Corinth. 5 new medals and 5 sexy new rewards await as you play through Chapter II, verse 1, 2 and 3! Also we've updated the Sci-Fi and Fantasy Wallpaper sections, and if you haven't signed up yet be sure to try out our new game demo for April!
Friday 3-26:
Spartika goes live!
We hope you'll enjoy the opening chapter of our most ambitious game yet. Spartika offers incredible action, strategic combat, and all sorts of sexy unlocks- grant mercy to your opponent to challenge her again for a chance at a higher score! Also be sure to check out the gorgeous new wallpaper dedicated to Spartika, the sexiest and most infamous gladiatrix in the Republic!

Tuesday 3-23:
STATUS UPDATE:
We're wrapping up our most ambitious fighting game engine yet-

Spartika

will feature three parts to each chapter, as you move through the story of the legendary gladiatrix and her fall from grace. Sentenced to fight in the coliseum with nothing but a helmet and slim daggers to protect her, the once worshipped arena champion must fight her way back to the top! Featuring a dynamic parry system and body-language cues, you must wear down your enemies' defenses before your blade can cleave flesh- Stay tuned for Chapter 1, verse 1-3 coming THIS week!
Thursday 3-4:
Oops!
It looks like we owe our members an apology- when the site was rebuilt our

Fatality Mini-Game

links for

Tournament IV

got lost in the shuffle... and as a result all 18 were broken! They have all been fixed as of today, so if you haven't tried out the T4 fatalities give em a whirl in our Tournaments section, simply click the poster of each defeated gladiatrix to go straight to her fatality!
Wednesday 3-3:
Barbarian Babes Expands!
Today we unveil our

Fiction Section

for the first time. You will find the Fiction button on the member vault page is now ready to take you to the new content- with this update we've added three seperate stories, one of which will be an ongoing serial with cover art each month!

We're also accepting Submissions!

See the Submissions page for the rules- any story we receive worthy of posting for the world to see will be rewarded with a

custom wallpaper celebrating your work!

We've also added a sexy boxing wallpaper to our

Modern Wallpapers

section, so check it out!
Monday 3-1:
Fixd a bug in
Queen of Sparta: Day 4
that prevented the Queen's shield defense from reactivating. This should make the level easier to conquer.
Tuesday 2-23:
Queen of Sparta coverage continues!
Queen of Sparta, Day 4 has just undergone a major overhaul to bring it in line with our original vision. New attack moves, new enemies, new voices, more blood, and a challenging second stage make this the best version yet.
While you're working your way up, check out the revamped Day 2 as well! Blood effects and balance changes, plus a more challenging Boss 2 encounter...
We've also updated the boss fight for Day 4, the Spear Frenzy attack is now correctly triggered with the ENTER
key as it is in Day 3, and we fixed a bug that prevented it from healing the Queen against boss 4. Enjoy!
Wednesday 2-17:
Queen of Sparta Day 3 Update!
The boss of Day 3, the sexy

Sirakae

, has just had an overhaul. Lots of balance and behavior changes to make the fight more fun, blood effects, new sounds, and her endgame is now working correctly. You will also correctly receive your password for Day 4 if you manage to 'mount' her on your spear...
Monday 2-15:
Queen of Sparta Day 5 goes live!
This three-parter pits the Queen against a barrage of sword concubines, war priestesses, and the deadly and drop dead gorgeous Silk Spider- the Queen of Persia's personal assassin! Jump to Chapter 5 instantly if you've got your Chapter 4 password saved... otherwise you'll need to take down the amazon hordes of Day 4 for a shot at the Silk Spider herself. Day 2, 3, and 4 have major updates headed your way so stay tuned!

Also this week check out the bold new wallpapers in our

Fantasy and Sci-Fi sections.
We've also updated Vaedel, the boss of Day 4, to be a lot smoother, bloodier, and bug free!

Tuesday 2-9:
More blood!
We've increased the resolution and added squishy blood effects to Queen of Sparta: Day 1. This includes the demo so check it out!

Queen of Sparta: Day 5 is in the works!

Wednesday 1-27:
Barbarian Babes is reborn!
The entire website has been rebuilt... you won't believe our AMAZING new member experience; so sit back, relax, and let the entertainment begin! For those of you still on the fence we've added another page to the Tour so check it out!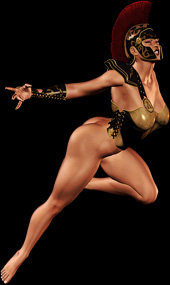 Saturday 1-16: The Rebirth of Barbarian Babes has begun! As you can see the entire site is being worked over- our public face is now finished; and the entire Member section is being revamped as we speak- it will be far easier to navigate, quicker to load, more stuff to download, and tons of new eye candy...
Thursday 12-31: Tournament IV CONCLUDES! We've got a massive update today, including wallpaper, the FINAL comic pages for our tournament, a poster of the Dragon Empress vanquished, and all new fatality mini-game; unlike all the others, to finish this series! Our largest tournament update yet!
Monday 12-21: Happy Holidays! Here at Barbarian Babes we hope you have a safe and relaxing holiday season. Our lead artist is out of town so the second half of our Holiday Update will be just before the new year. For now enjoy the new wallpapers, though we do have a Christmas present for you by way of a piece of news. Barbarian Babes will be getting a complete OVERHAUL in January- the entire site is being worked over; and will be much faster, easier to use, and more fun to explore. We'll be breaking things up into a 4-in-1 experience with Sci-Fi, Modern, Toon, and Fantasy as our major categories... plus before the New Year look forward to the END of Tournament IV! That means not only a Fatality for the Dragon Empress... but an entire "kill the Empress" minigame with all new posters and comic pages. Other items on the horizon include a revamp of Galactica featuring many levels and a new storyline, and a Gladiatrix style fighting game where the direction of your attack is what counts- think Punch Out with swords!
Wednesday 12-16: Hot and deadly! Spacegirl Interrupted Part 6 continues our story with a sultry new opponent who's packing two weapons! There's also two new aliens introduced in this, the most challenging chapter of Spacegirl yet! We've got two hot wallpapers online as well so check em out!
Monday 12-7: Double Wallpaper! We've just uploaded a pair of very hot new wallpapers, so check em out, and watch for more game love and comics coming next weekend!
Sunday 12-6: Double Games Update: As promised we've got a new exciting chapter of Spygirlz online- Phase 2.0 features 6 new mini games as your spygirl fights her way closer to her nemesis! Cowgirls & Vampires II is now COMPLETE! The entire game has been polished, with Chapter headings added to each segment to ease gameplay and make loading less confusing- also every section has been adjusted, with new artwork added to the shootouts and the final victory movie installed. The update is still going to stay tuned for some HOT new wallpapers!
Saturday 12-5: Text Update! The holiday madness has forced us to to forego last weekend's update and stack it on to this weekend! So tomorrow look for a double update involve the next Episode of Spygirls, featuring 6 more minigames. Also we'll be putting up the FINAL installment of Cowgirls & Vampires II featuring the last struggle against Diaboline in her coffin, and the epilogue and victory chapter! Of course we'll be tossing in a double Wallpaper as well, so say tuned!